In honor of surpassing my goal of 100 fabulous followers,
I have decided to have a giveaway!
This blog has been really fun for me and all of you that leave such lovely &
encouraging comments really make me happy!
Thank you so much for following!
xoxoxoxox
Now on to the GOOD STUFF!
Check out all the loot for ONE LUCKY WINNER!
1. (1) Hand Stamped "Hello" Notecard with Matching Envelope
...made by me.
2. (3) Handstamped Bookmarks: Owl, Cupcakes & Awesome
...made by me too.
3. (1) Hello Owl Button, not even for sale yet!!
4. (3) Hello Owl Stickers, keep them all for yourself or
share them with friends!
Pretty awesome right?
Well guess what....there's MORE!!
Thats right, my lovely friend Angie, who is the cutest cupcake I know, offered up a plethora of cuteness to add to the giveaway! You cupcake lovers are gonna faint...
1. (80)
cupcake liners
in black/white, red/white, green/white, blue/white all in plaid and striped
2. (60) cupcake liners in fuchsia, green, blue, red, orange and purple with white
polka dots
3. A circle trinket box with
Hello Owl
hand-painted on it.
4" in diameter. 2.5" tall.
(!!!)
4. An address book with a cupcake on it that says "Sweet!"
5. (6) paper coasters with an
ice cream sundae
and says:
"Life is uncertain... eat dessert first."
5. (6) cupcake-shaped soaps
Can you believe it!??!
Please stop by her blog and check out her amazing cakes!
She makes totally awesome baked goods!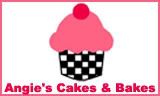 Now would you like to know how to enter this amazingly awesome giveaway?
Well, all you have to do is be a follower of my blog
and leave a comment on this post
(including your email, so I can contact you if you win!)
Thats it!
Entries will be taken thru Sun, 25th @ 7:00pm EST, then I will post the winner on Monday the 26th
Ready, Set...GO!!!